Pacific young women are taking a greater interest in protecting our oceans for the future.
At last week's inaugural conference on ocean science and ocean management in Nadi, Fiji, Tanga Morris Jnr, 26, said that while growing up in the Cook Islands, taking up ocean science as a career was not necessarily the talk of the town.
"It'll be like 'why don't you go be a lawyer? Or why don't you become an accountant.' But we're now trying to uplift that platform of science, not only for both genders, but especially for women, because it's a great role, it shows leadership, and it proves that, 'hey, not only men can do this, not only men can go on a boat out at sea and survive, about two, three months.' So I hope as we go throughout the years, we can get more women joining this space."
Being a Knowledge Management Officer for the Cook Islands' Seabed Minerals Authority (SBMA), Morris helps oversee national undertakings such as the Cook Islands' Seabed Minerals Exploration that began earlier this year.
"The work is pushing forward, and we as a country are very excited for the results," she said of the SBM exploration.
"We've done a bit of bathymetry data, we've done sample collections, sampling within the water columns, and sediment samples. So yeah, there's a lot of data being collected by our [Seabed] Authority and [we] make it available to the public because what's very important for us is bringing our people along the journey with us.
"We've also done rounds of consultations with our communities across all 15 islands, which requires us going out there and holding consultations with our local people, the women, men, youth, sports groups, church groups, you name it. We're sharing the information that is coming to us as we go. And it's looking really promising for us, and that's the main purpose of awareness and education, to ensure that our people are updated on the work that is happening within our waters.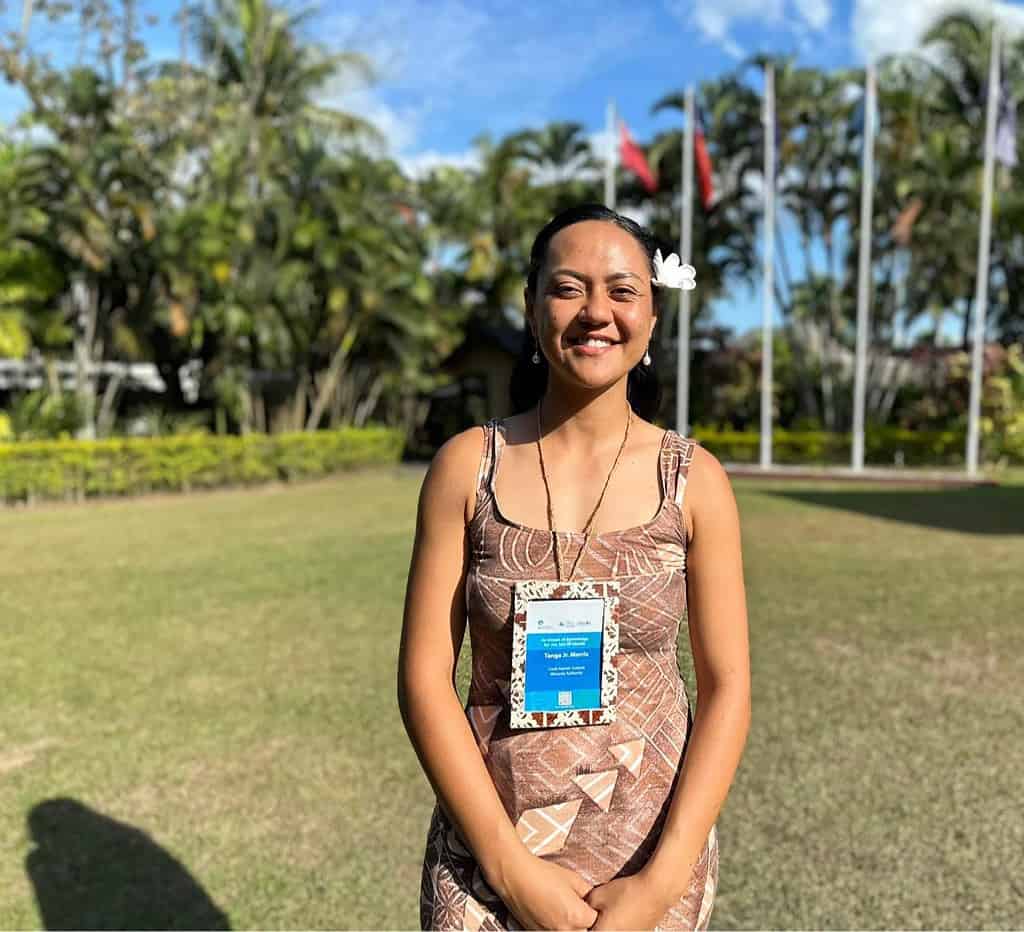 There are many benefits with the ongoing exploration, said Morris.
"If we were to extract these minerals, it would be an opportunity for us to diversify our economy. The Cook Islands are very reliant on tourism. It's the highest source of income for our economy, followed by the fisheries sector. Looking ahead, it'll provide a larger opportunity for our young people to get involved, and we already see that happening."
Fiji's Talei Cavu said working for the ocean space has challenged her to learn more and "not limit myself to what I just know". The 26-year-old is currently serving in the National Climate Change Division under the Office of the Prime Minister and is part of SPC's Pacific Early Career Ocean Professionals Programme.
"As young people, we should never limit ourselves to be like 'I can't do this or I'm uncomfortable'. We should be comfortable with being uncomfortable so that we can learn and progress.
Cavu said last week's ocean science conference provided young people "a seat at the table".
"It's not just experts, scientists, researchers, or people that have wealth of knowledge, but young people were able to come in and give their opinions.
"I would advise our young Pacific Islanders to come out of their comfort zones because you never know the capabilities that you have hidden," she said.
From New Caledonia, 22-year-old Hettie Sem and her young all-female crew, N'Youth Pasifika, are looking to keep the ocean conversation going amongst young people in their country and the region as a whole. Sem participated in a 6-months internship this year under the Pacific Community (SPC)'s Fisheries, Aquaculture and Marine Ecosystems (FAME) division, stating "the work they do is so huge!".
Sem believes "there are a lot of concepts that young people do not understand like climate change".
She said sea-level rise is evident in New Caledonia. "My mother is from the island of Ouvea, and it's in the north, and the sea level rise is happening there. I think in two or three years, maybe five, my people will have to move. The climate is changing so fast and we have more cyclones and more rain."
Sem, who was the youngest to attend the conference in Nadi, said: "I'm going to go and tell my three other friends that there are many, many opportunities. Sometimes, young people can think that they're set apart from everything that is going on. But it's not the case. Everyone was really, really happy to explain to me what is going on with state of our climate and oceans."
*****
Kite Pareti was a participant/fellow of The Pacific Community (SPC), Pacific Islands News Association (PINA), Fiji Media Association (FMA) and Internews Earth Journalism Network Ocean Science and Ocean Management Media Masterclass in September 2023 in Nadi, Fiji.